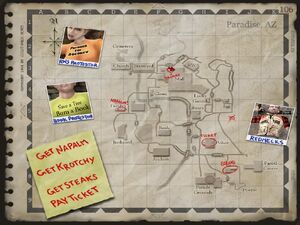 Thursday is the fourth playable day in Postal 2. It has 4 Errands total. 
Key Items
Edit
Postal Dude calls cars "Useless exploding props", mockingly saying that cars are never seen driving around, and their only purpose is to explode when shot.
Ad blocker interference detected!
Wikia is a free-to-use site that makes money from advertising. We have a modified experience for viewers using ad blockers

Wikia is not accessible if you've made further modifications. Remove the custom ad blocker rule(s) and the page will load as expected.