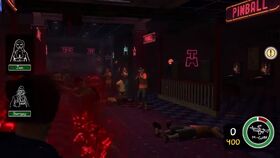 Thompson's Funland Arcade is an area in Postal III.
Arcade Shootout
Edit
Some Nerds have taken occupation of a local arcade with the help of their moms. It's up to the Postal Babes, Postal Dude and Sergey Mavrodi to cleanse the building of this menace.
In the opening cutscene, the lawyer who gets shot up is clearly a reference to Jack Thompson.
Naming an arcade "Thompson" is another jab at asshole Jack Thompson.
Ad blocker interference detected!
Wikia is a free-to-use site that makes money from advertising. We have a modified experience for viewers using ad blockers

Wikia is not accessible if you've made further modifications. Remove the custom ad blocker rule(s) and the page will load as expected.