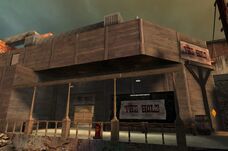 The Hole (more commonly known as the Saloon) is an area in Paradise Lost. Formerly, the building was Bowl Reamers and now it's the base of operations for the Lawmen, and where one ends up after getting arrested.
Decidedly western, The Hole is a saloon and jail spanning several floors underground which is reached via a very un-westernly elevator.
Mad Eye's Saloon
Edit
The first area after getting off the elevator. Straight forward with a bar, stage (with a singing cow), and a Postal Babe behind bars selling lap dances. It has a second floor with bedrooms as it doubles as a brothel.
Further underground is the Jail which functions in a similar manner to the Police Station. It has several cells with incarcerated criminals, an armory, and a functioning gallows to hang people with.
Ad blocker interference detected!
Wikia is a free-to-use site that makes money from advertising. We have a modified experience for viewers using ad blockers

Wikia is not accessible if you've made further modifications. Remove the custom ad blocker rule(s) and the page will load as expected.