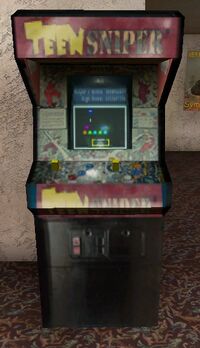 Teen Sniper
is an arcade game developed by
Running With Scissors
which goes unused in
POSTAL 2
, appearing only in
A Week In Paradise
. The only machines are located at
Grossman's Arcade
. Every time the
Postal Dude
gets near a
Teen Sniper
machine, he will say "That's clearly wrong", implying that even he considers a game of such nature to be extremely violent.
It costs 1 token to play.
In the Fudge Pack version of A Week In Paradise, Teen Sniper cannot actually be played. Although, one can update their game here.
The mini-game itself is simply the dude shooting random people that walk by from a sniper tower. There is no ending, and one simply walks out of the tower to return to the main game.
In early versions of AW7 the optional mission where The Dude must kill 100 zombies took place in the Teen Sniper map.
Ad blocker interference detected!
Wikia is a free-to-use site that makes money from advertising. We have a modified experience for viewers using ad blockers

Wikia is not accessible if you've made further modifications. Remove the custom ad blocker rule(s) and the page will load as expected.