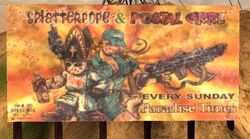 Splatterpope & Postal Grrl is a comic strip featured in the Sunday edition of the Paradise Times. However, since the Postal Dude does not receive the Sunday edition, the comic strip is never seen.
This would later be turned into a real comic by artist Steve Wik which lasted for three strips. Most of which can be found on the Comics page.
Ad blocker interference detected!
Wikia is a free-to-use site that makes money from advertising. We have a modified experience for viewers using ad blockers

Wikia is not accessible if you've made further modifications. Remove the custom ad blocker rule(s) and the page will load as expected.