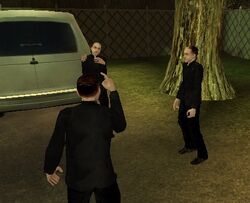 The Priests are in charge of the administration of the religious rites in the Church. Priests appear all over Paradise for the whole week, but they play a role on Tuesday when one of the errands of the Postal Dude is to confess his sins. The Postal Dude enters the church and, if he steals the money from the offertory box, the priest in the entrace hall will attack him. The Postal Dude then goes to the confessionary to confess his sins to another priest. After stating that he has really sinned, the priest asks the Postal Dude if he dropped an offertory to the box, and the Postal Dude answers "yes". The priest forgives him and calls for the next person in line.
In that very same moment, three priests are seen having a conversation outisde the church, when they are killed by an exploding terrorist. A whole group of terrorists appears and declare war against the "infidels", while some armed priests come outside the church as a response to the attack, thus starting a gun battle.
Ad blocker interference detected!
Wikia is a free-to-use site that makes money from advertising. We have a modified experience for viewers using ad blockers

Wikia is not accessible if you've made further modifications. Remove the custom ad blocker rule(s) and the page will load as expected.