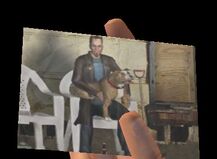 The Photo is an errand item in Paradise Lost. It's an old picture of the Postal Dude and Champ.
The Photo is given to the player on Monday which is used to ask the residents of Paradise if they've seen Champ. However, anyone who sees the photo (from regular Civilians to law enforcement) immediately runs away screaming in terror.
The photo is one of the few moments where we see the Postal Dude without his sunglasses.
Ad blocker interference detected!
Wikia is a free-to-use site that makes money from advertising. We have a modified experience for viewers using ad blockers

Wikia is not accessible if you've made further modifications. Remove the custom ad blocker rule(s) and the page will load as expected.