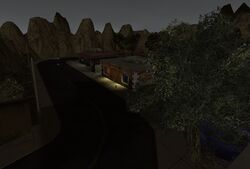 Newlow
is a district area in
Hasselridge
. The
Sewers
from the
Museum
lead to Newlow. As soon as
John Murray
gets out of the sewers, he meets
Grandpa Bob
. If Bob sees John carrying a weapon, he will be scared and will try to escape, but since he is surrounded by
pigeons
, they will chase him and peck him to death.
Several accidents are taking place in Newlow: a light post crushing a woman, a vehicle full of civilians exploding, a zombie outbreak, among others. The gates out of Newlow are locked, the only way out is breaking a switch atop the fire department. The building of the fire department has been taken over by Hasidics armed with sickles. When John breaks the switch, it opens a gate to a house, guarded by dogs. There is another switch within this house, the one that actually leads out of Newlow.
Ad blocker interference detected!
Wikia is a free-to-use site that makes money from advertising. We have a modified experience for viewers using ad blockers

Wikia is not accessible if you've made further modifications. Remove the custom ad blocker rule(s) and the page will load as expected.