Not to be confused with the original AWP-exclusive Grenade Launcher
The M79 Grenade Launcher is a weapon featured in Eternal Damnation & Postal 2 Complete.
Description
Edit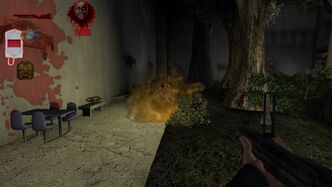 The M79 Grenade Launcher is one of the more powerful weapons in Eternal Damnation. Upon firing, it shoots a grenade at its target, which instantly explodes where it lands. It completely destroys the bodies of its target, making it useful against zombies. In Postal 2 complete, it simply acts as an alternate way to throw a grenade. After a round is fired, the player does a reload.
Ad blocker interference detected!
Wikia is a free-to-use site that makes money from advertising. We have a modified experience for viewers using ad blockers

Wikia is not accessible if you've made further modifications. Remove the custom ad blocker rule(s) and the page will load as expected.