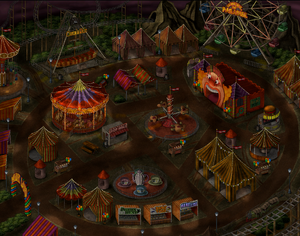 'Little Germany, or Uwe Boll's Krotchy Park' is a fictional amusement park in the Postal Film, located in the Paradise Docks, where Boll is preparing a cargo ship with 2000 Krotchy Dolls, to distribute them to children, which were infected by a asian bird flu by the Al Qaeda to spread chaos on the US.
Very little of Little Germany is shown in the movie, it is known that it is a german-based fast food amusement park with the typical Oktoberfest parties common in Germany full of German national flags, where Uwe Boll was directing his new POSTAL movie sequel without the permission or copyright of RWS, after fighting agianst Postal Fans and RWS themselves, Boll runs away and hides on the Little Germany Amusement Park owned by neo-nazis (which ironically was founded by Boll himself) to direct his new movie hidden from everyone, while he makes his "Bad" movie, he purchases a giant cargo ship with over 2000 Krotchy Dolls for free to distract children and other people while he makes his movie in peace, however, Vince Desi, CEO of Running With Scissors and creator of the Postal series manages to enter Little Germany disguised in a Krotchy Outfit and attempt to kill Boll and his actors, Little Germany was destroyed by the Nuclear Warheads in the end of the movie like Paradise itself.
Ad blocker interference detected!
Wikia is a free-to-use site that makes money from advertising. We have a modified experience for viewers using ad blockers

Wikia is not accessible if you've made further modifications. Remove the custom ad blocker rule(s) and the page will load as expected.