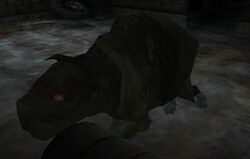 Hippos
are a type of animals exclusive to
Eternal Damnation
. Only three hippos are spotted in the game, all of them in the
Sewers
. They share common traits with the
dogs
, even barking while chasing or attacking their prey. The first hippo is seen almost at the beginning of the sewers, and two more appear in a final battle before leaving the sewers. They are noticeably vicious.
Ad blocker interference detected!
Wikia is a free-to-use site that makes money from advertising. We have a modified experience for viewers using ad blockers

Wikia is not accessible if you've made further modifications. Remove the custom ad blocker rule(s) and the page will load as expected.