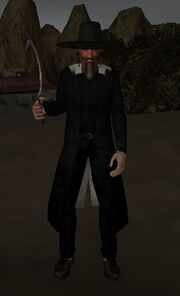 The
Hasidics
are a group of Jewish fanatics introduced in
Eternal Damnation
, appearing only at
Newlow
. Following the
zombie
invasion in
Hasselridge
, the Hasidics take shelter in the Fire Department. At the department, the Hasidics guard the switch that opens the gates out of Newlow, containing both the
civilians
and the zombies in the place.
Since John Murray arrived accidentally to Newlow, he just wants a way out to continue his journey to find somewhere to hide. When he enters the fire department, he faces opposition from the Hasidics, who immediatelly attack him with their sickles.
Ironically, the Hasidics share some traits with the Arab terrorists from Postal 2, including the voice.
Ad blocker interference detected!
Wikia is a free-to-use site that makes money from advertising. We have a modified experience for viewers using ad blockers

Wikia is not accessible if you've made further modifications. Remove the custom ad blocker rule(s) and the page will load as expected.