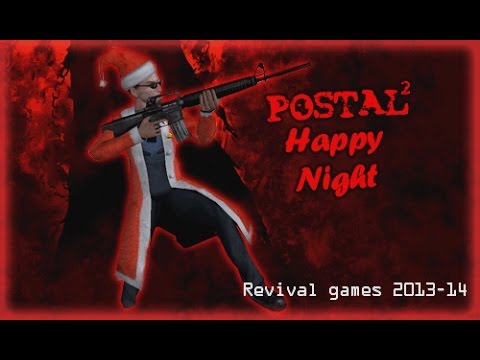 Happy Night is a Christmas themed mod by Revival Games for POSTAL 2 Share the Pain. A total conversion mod, taking place before the events of POSTAL 2. A copy of POSTAL 2, the Share the Pain multiplayer (which is available for free), or a copy of the game on Steam is required to play the mod.
Taking place on December 31st 1994, we follow The Postal Dude who needs money to pay his rent.
Features
Edit
Absolutely new plot with a lot of errands
Integrated ragdoll dismemberment
Improved physical simulations
Integrated few animations and situational awareness on multiple AI types
Support for a large amount explodable objects
Enhanced shop system (buying, selling)
Improved weapons system with many different interactions
Weapons upgrades
Actual working vehicles
Enhanced arcade game systems (Sonic Adventure, Mario Bros, Fruit Ninja, Racing)
Information Hub
Edit
Items in Happy Night
Weapons in Happy Night
Characters in Happy Night
Steam Version
Edit
A Steam release of the mod has been released on 12.12.2016. It contains many new features when compared to the original release. Current version is 1.4. The workshop page can be found at the bottom of the page.
Developers
Edit
This mod was created by Revival Games studios (four people)
Anton Voroncov a.k.a A-Mod - Game design, Level design, textures, models, some additional coding.
Nick Pilshikov a.k.a Evil - Coding, models, animations, textures, additional level design. The same person who made the Nick's Co-op mod for POSTAL 2.
Max Popov a.k.a Flafster Substancy - Level design.
Erik Rossik a.k.a ErikFOV - Setting, Testing, additional animating, additional level design.
External Links
Edit
Ad blocker interference detected!
Wikia is a free-to-use site that makes money from advertising. We have a modified experience for viewers using ad blockers

Wikia is not accessible if you've made further modifications. Remove the custom ad blocker rule(s) and the page will load as expected.