The Grotto is an underground area in Postal III.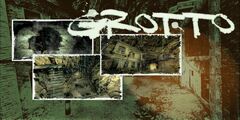 Champ Rescue
Edit
After walking around in the Krotchy suit for awhile, the Postal Dude stumbles on a trail left by Champ. Ditching the Krotchy suit, the Postal Dude follows the trail underground where he finds Al selling the freed animals from Evolusious Cosmetics to the Mexi-Sushi concern. Not happy about this, Champ decided to rescue his captured animal friends and take a bite out of crime.
Ad blocker interference detected!
Wikia is a free-to-use site that makes money from advertising. We have a modified experience for viewers using ad blockers

Wikia is not accessible if you've made further modifications. Remove the custom ad blocker rule(s) and the page will load as expected.