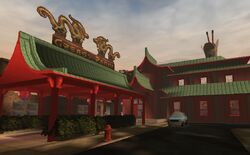 "I feel a particular need for some really crappy Chinese take-out."
— The Postal Dude
Greasy Panda is a Chinese restaurant located in Lower Paradise. After the Postal Dude leaves the hospital, he starts complaining about how hungry he is, and indirectly urges the player to go to Greasy Panda. The Postal Dude enters the restaurant, and sees a man saying he wants a beer before his breakfast and a woman complaining about the food. These two people are having their orders taken by normal people; however, when the Postal Dude arrives at the counter, he notices something is wrong with the man that is supposedly taking his order.
At first, the Postal Dude tells the "man" to go to see a dermatologist, and then assumes that the "man" may be British because of his accent. Instead of taking the order, the "man" starts complaining about people going to buy some food, and guesses that the Postal Dude wants some cheese, to which the Dude replies no. Suddenly, another weird employee starts attacking the women in the kitchen, and the "man" starts talking nonsense. It is revealed that these two employees are zombies, and the Greasy Panda is under a zombie attack. The Postal Dude must kill 20 zombies within the restaurant.
Some weapons and health items are available within the restaurant, even during the second and third times that the Postal Dude visit Lower Paradise. The third time, the dragon from the sign over the restaurant has fallen down as a result of the progressive destruction of the town.
Ad blocker interference detected!
Wikia is a free-to-use site that makes money from advertising. We have a modified experience for viewers using ad blockers

Wikia is not accessible if you've made further modifications. Remove the custom ad blocker rule(s) and the page will load as expected.