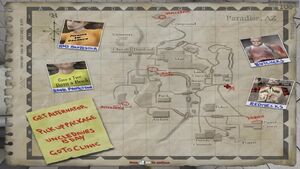 Friday is the fifth playable day in Postal 2. It has four errands in total. 
Key Items
Edit
Glitches
Edit
If the player urinates after completing all tasks, the game will open the map attempting to insert the optional clinic one, but it won't be added, thus making it unavailable, althrough the player can still go to the clinic and get the cure. (This was tested with the Steam version)
Ad blocker interference detected!
Wikia is a free-to-use site that makes money from advertising. We have a modified experience for viewers using ad blockers

Wikia is not accessible if you've made further modifications. Remove the custom ad blocker rule(s) and the page will load as expected.