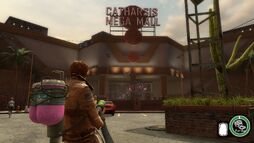 The
Catharsis Mega Mall
is an area in
Postal III
.
Missions
Edit
Jen Walcott's Bodyguard
Edit
After failing to get paid in Diseased Cat Roundup, Vince calls up the Postal Dude with a job to protect his head Postal Babe, Jennifer Walcott who is signing autographs. Things go swimmingly until the Hockey Moms from Porn World attack.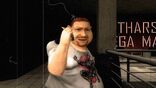 Krotchy Meal Toy Delivery
Edit
After dealing with Randy Jones in the first part of this mission, the Dude now has to deal with Nerds as he gets to Krotchy's Tossed Salad for the delivery.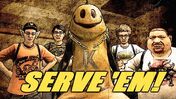 Battle Damage Krotchy
Edit
On the run after breaking out of Jail in Prisoner without a Clue, the Postal Dude asks Krotchy if he can borrow his suit. The Ball sack is not pleased.
Ad blocker interference detected!
Wikia is a free-to-use site that makes money from advertising. We have a modified experience for viewers using ad blockers

Wikia is not accessible if you've made further modifications. Remove the custom ad blocker rule(s) and the page will load as expected.