The Cash Mart is an area in Postal III.
Cash Mart Robbery
Edit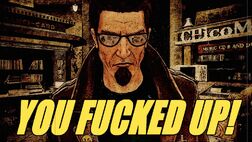 Failing to get paid in the previous mission, the
Postal Dude
goes to get a payday loan. Though there is no line, it seems the
Ecotologists
are robbing the place.
The Police show up and a shootout ensues. It's at this point the Dude has to make a story altering choice of joining the cops or ecotologists. Or you can just waste them all and not get paid.
Cash Mart is a parody of Cashcall.com with a fitting parody of Gary Coleman who was the spokesman.
Ad blocker interference detected!
Wikia is a free-to-use site that makes money from advertising. We have a modified experience for viewers using ad blockers

Wikia is not accessible if you've made further modifications. Remove the custom ad blocker rule(s) and the page will load as expected.