Not to be confused with the original Katana.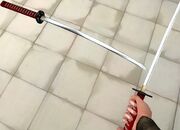 The Bitch's Katana is a very powerful melee weapon exclusive to Paradise Lost. It is most similar to the unobtainable Katana introduced in Eternal Damnation. One can only obtain this weapon from defeating The Bitch in combat, or by finding it inside the Junkyard from Thursday onward.
There may be a Bitch's Katana in the water around the Robotics Factory that is stuck through a skeleton before Thursday.
Ad blocker interference detected!
Wikia is a free-to-use site that makes money from advertising. We have a modified experience for viewers using ad blockers

Wikia is not accessible if you've made further modifications. Remove the custom ad blocker rule(s) and the page will load as expected.